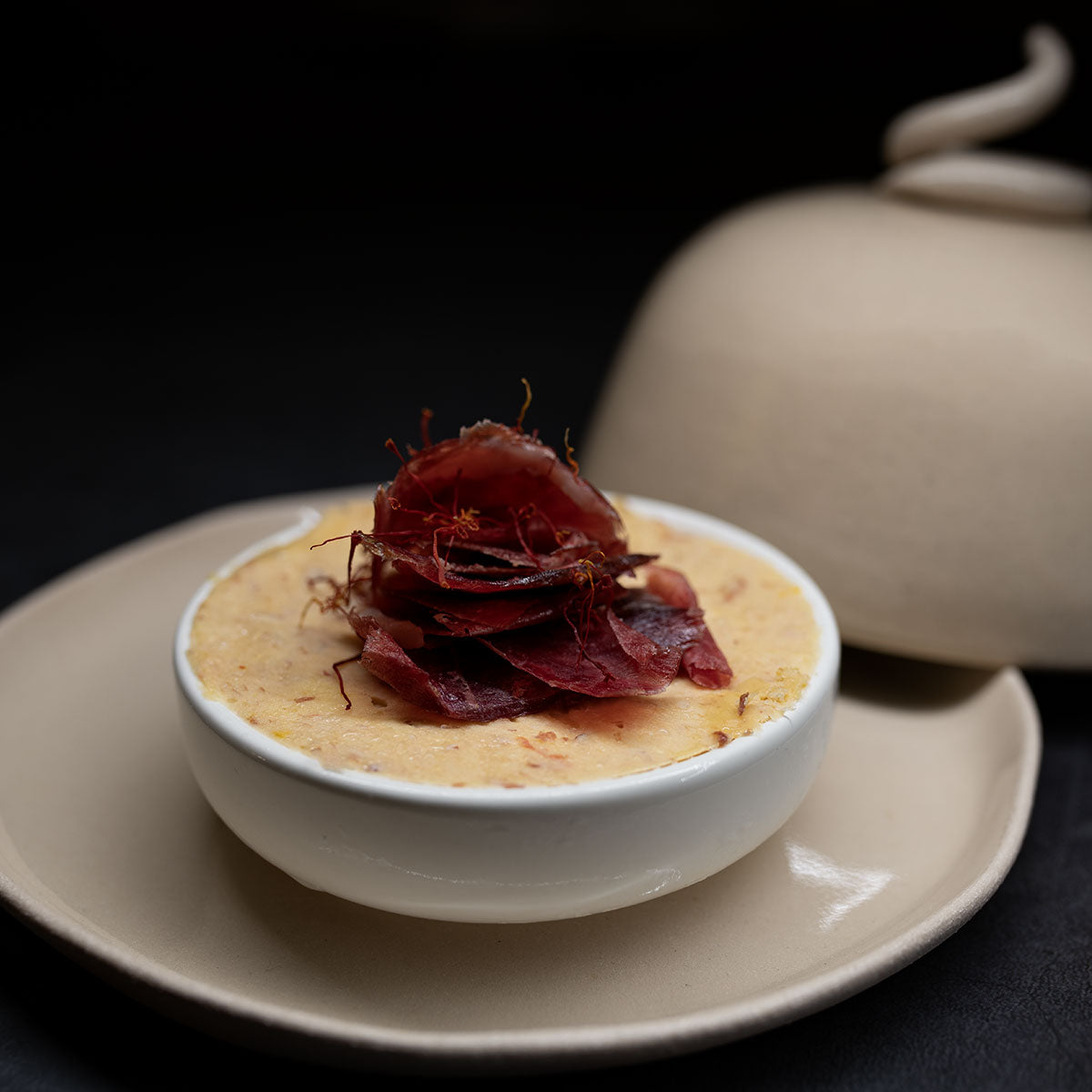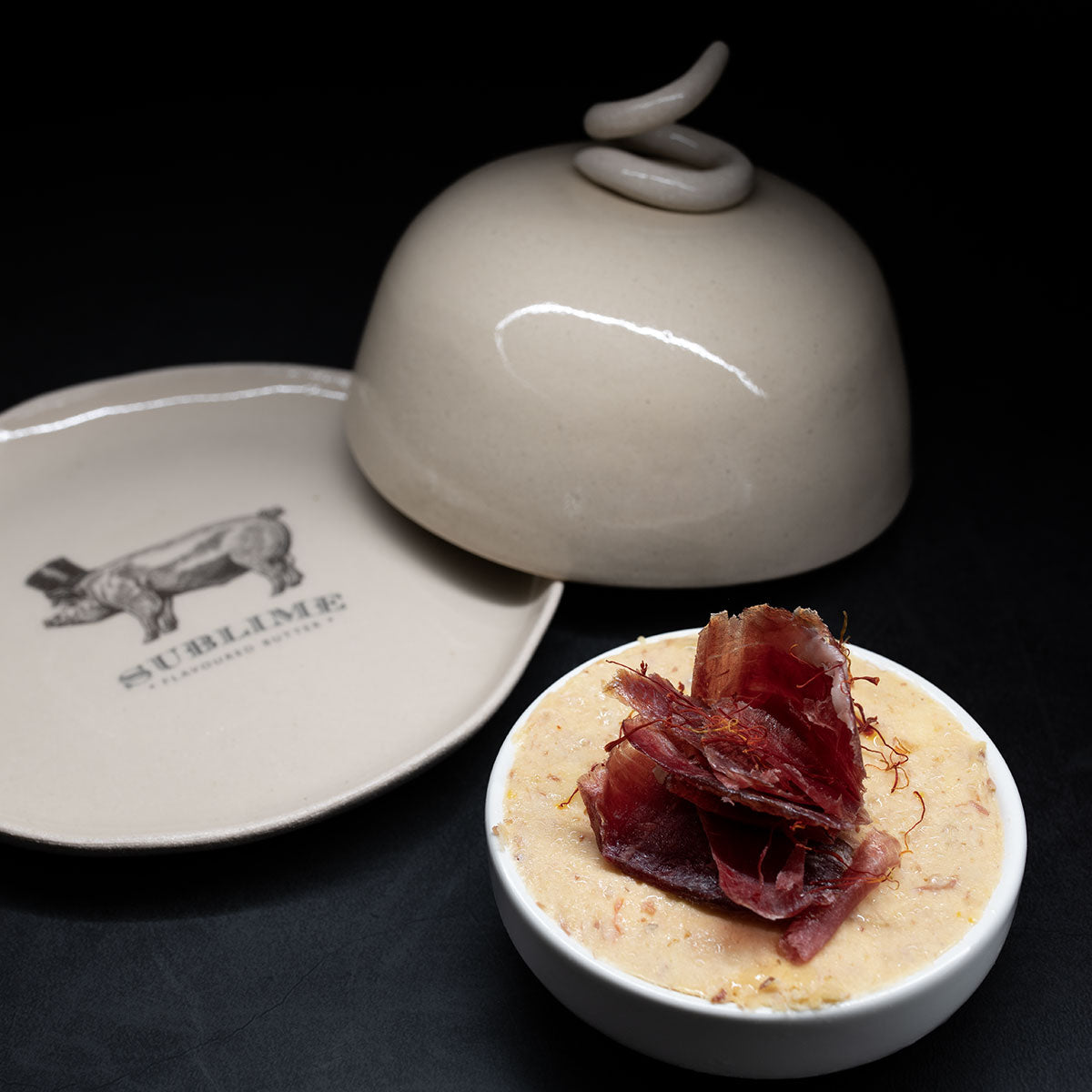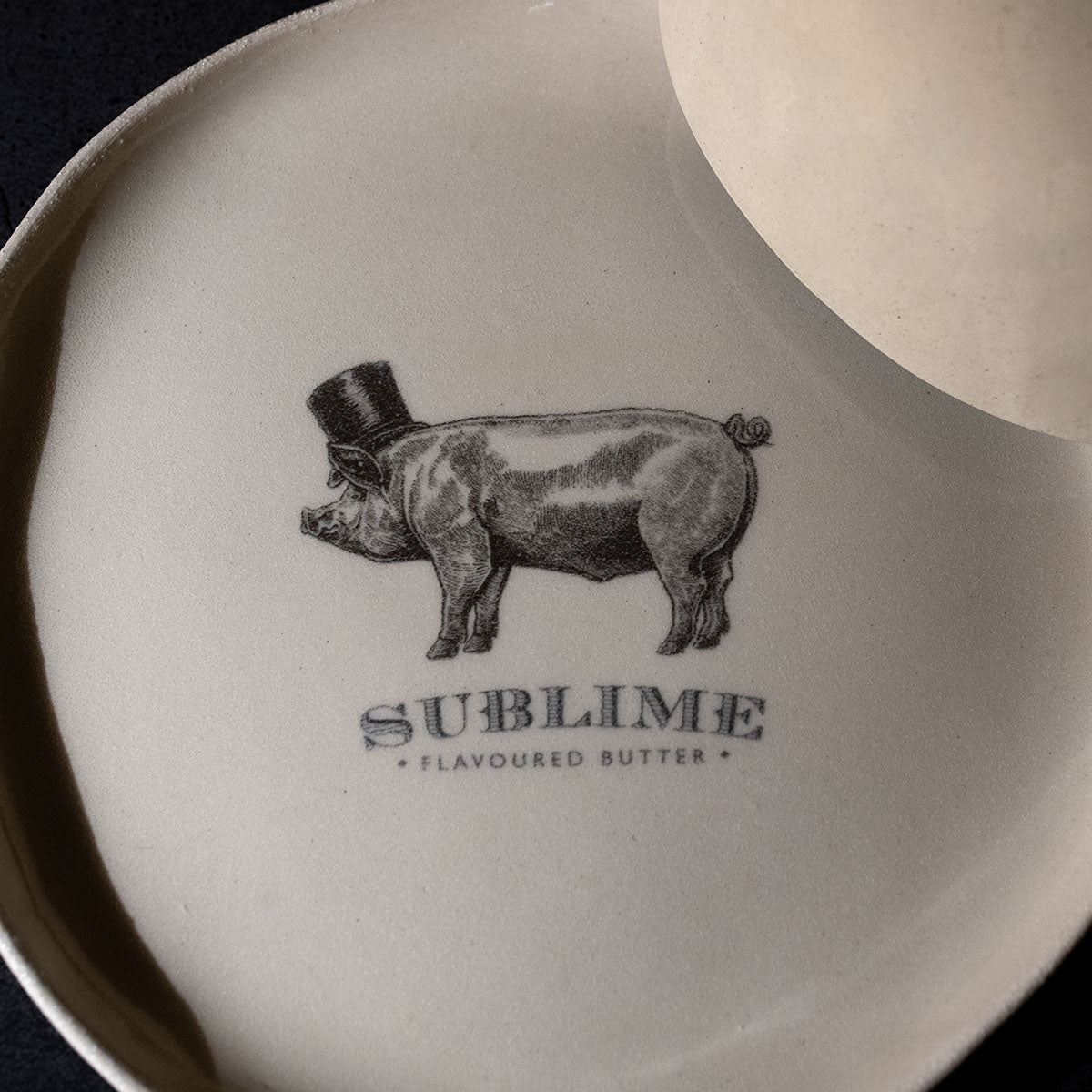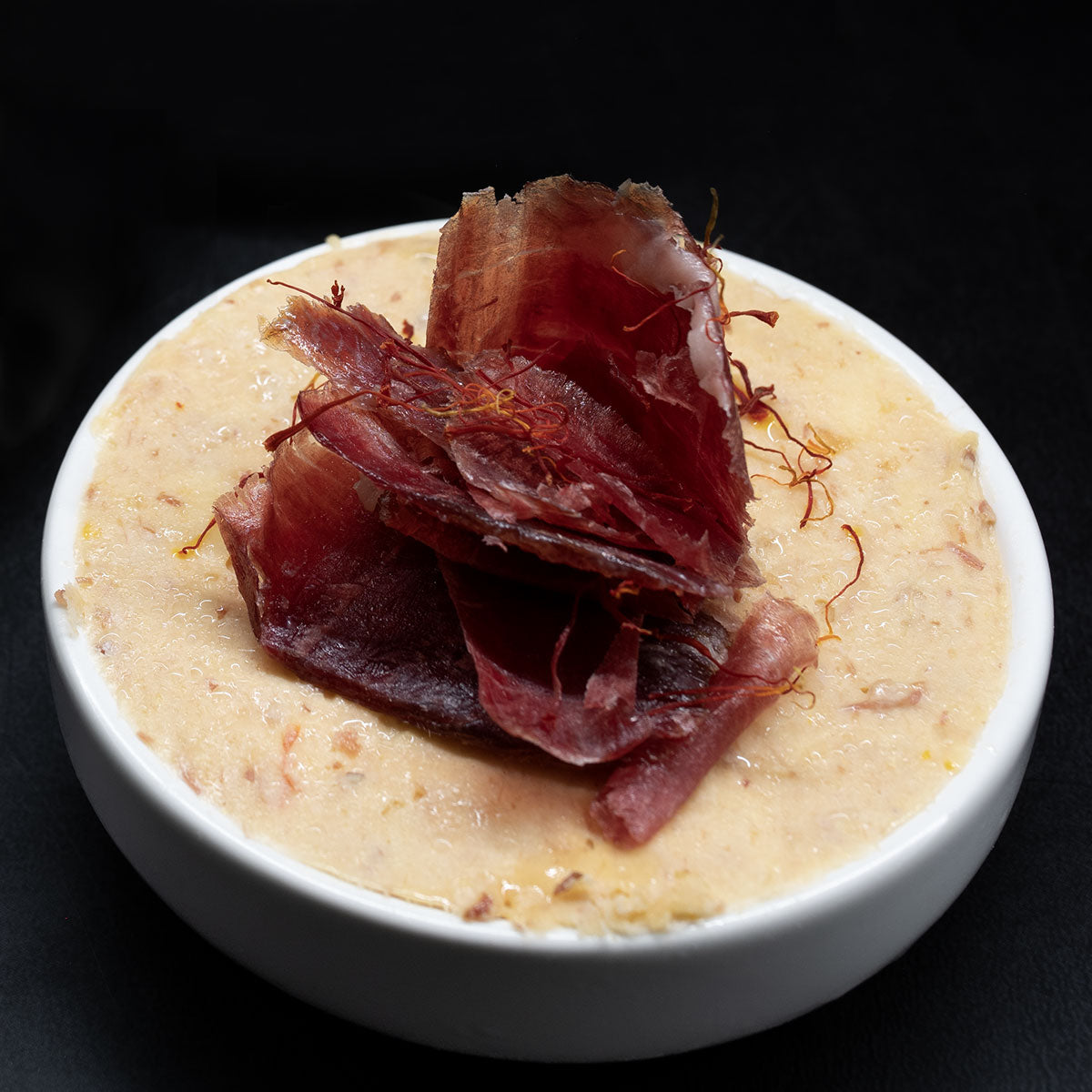 No. 78 — Cinco Jotas Jamon Ibérico, Carabineros, Pedro Ximénez & Spanish Saffron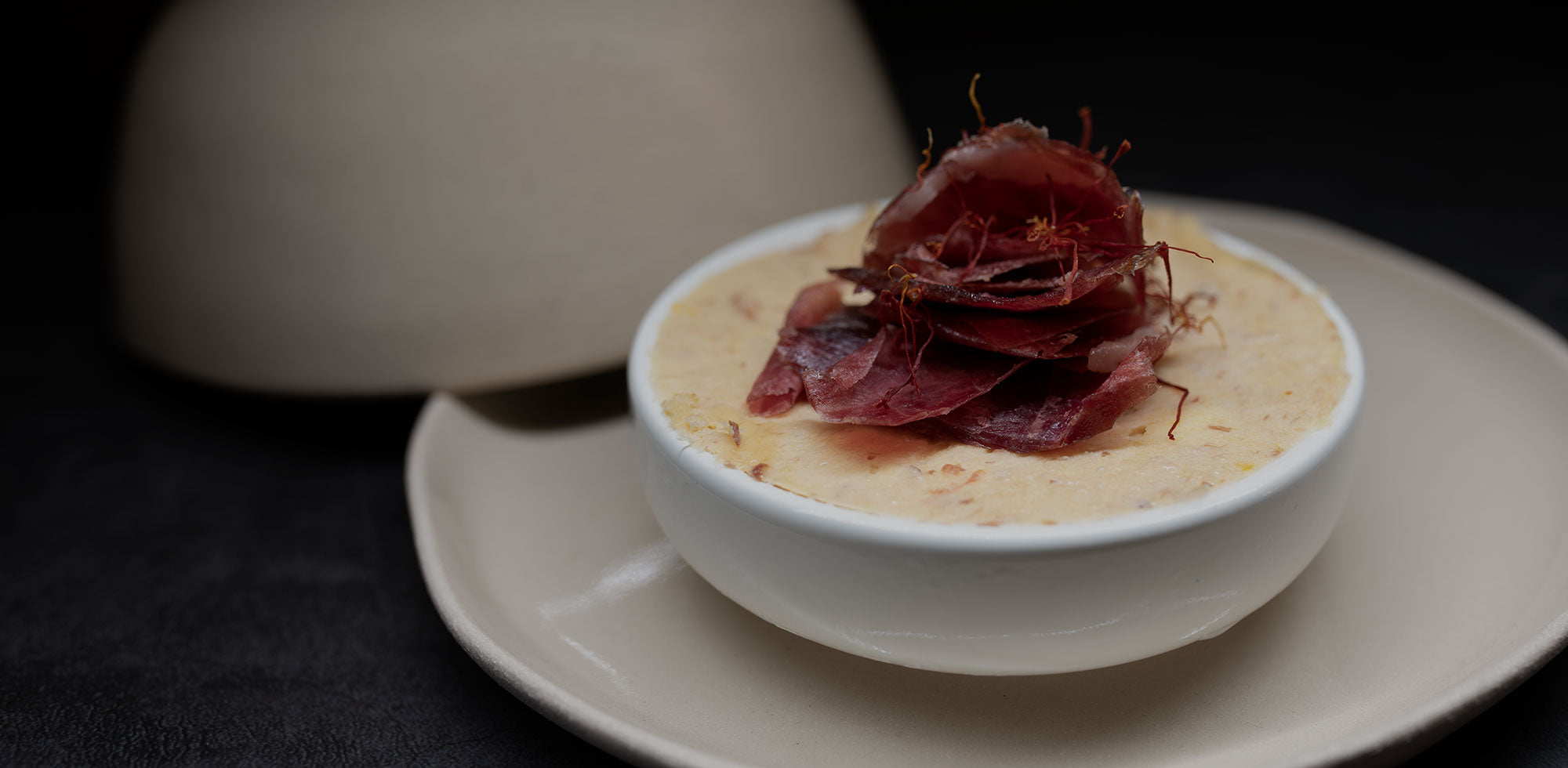 Tasting Notes
A butter steeped in tradition
No. 78 is more than butter. It features the unrivalled and exceptional profile of Cinco Jotas Iberico — a ham whose smokey rhythms and earthy rituals have been handed down for generations. But somehow, this is not the solitary leader of the pack.
In tandem, No. 78 is bespeckled with acute pockets of Spanish Carabinero prawns; prawns so deeply meaty and scarlet, they are known to be closer to lobster in their taste and plate appeal. For a sweet and vibrant acidity, No. 78's core ingredients are deglazed with a festive glug of Pedro Ximenez sherry — reminiscent of caramelised dates and figs; with the gentle aromats of coffee and tobacco. And for colour and vividity, we have chosen to seal this divine affair with the finest saffron available to humankind.


A Dish Called Home
Handmade in the House of Clay
Inspired by the communion of tapas, No. 78's accompanying butter dish exhibits a novel pig's-tail cloche. Crafted from white stoneware by the talented female artisans of London's House of Clay, we believe — as impossible as it may seem — that No. 78's home is a worthy match for its contents.
About Sublime's Ridiculous Range
Butter is a product that we often take for granted. In reality — and when done right — it is the perfect vehicle for flavour. Sublime's products are always testament to that fact.
Ridiculous is our way of pushing this understanding to creative extremes. Featuring rare ingredients and unusual flavour profiles, Ridiculous is a force to be reckoned with. Indulgent, different, and undeniably special, you won't taste anything like it anywhere else, ever again.
The ingredients we source for Ridiculous — along with the expertise required to prepare and perfectly combine them — are not easy to come by. We use no preservatives, and everything's wonderfully fresh. These ingredients are sought after by chefs the world over for their flavour, vibrancy and tenderness; they wouldn't be out of place in the highest heights of fine dining. And yet, for a brief while, they'll be available to you in butter form.
For something this special, you're very right to want to use it in its best capacity. The truth is though: No. 78 is more versatile than you may think. It would make for a divine experience served alongside a festive cheeseboard, for instance. Equally, a simple serving of No. 78 on a slice of toast is not to be taken lightly.
Any (savoury) treat that might benefit from your usual butter will benefit 100-fold from Sublime No. 78.